Delete your Lumin account simply under your Profile Settings.
Delete your account

Note: Please read these warnings before completing the deactivation of your account
Log in to your Lumin account.
Click your account profile icon (top-right of the page). Select Profile Settings



Click the Delete My Account button at the bottom of the page

Enter your password.
Click the red Delete my Account button.


After confirming the deletion of your account, it will take 3 days for your account to deactivate.
Note: If you log in to your account within that three days your account will not be deleted
NOTE: If you are a Team or Circle admin, you may have encountered this message in Step 6: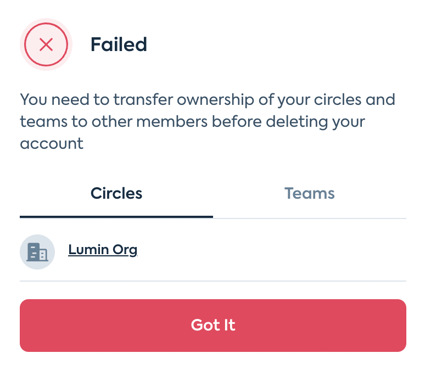 You will need to transfer ownership of the team or organization to another member before deleting your account.
To transfer ownership of a Circle before deleting your account, find out how here

To transfer ownership of a Team before deleting your account, find out how here
Deletion Warnings:
We will save your personal data (email/password and document list) for three days after a delete request. Any time within three days of deleting your account, you can log into Lumin and restore your account details and documents.
Deleting an account, also deletes all your team chats.
Before deleting your account, back up your personal files to a location outside Lumin and notify your team so they can save any files they need.