Draw on a document with the easy-to-use freehand drawing tool.
Click the dropdown arrow to adjust the drawing style.



Drag the cursor on the page to draw as required.
Click the Free hand tool again to exit the drawing mode.
Tip: You can also open the Freehand tool by pressing F on your keyboard.
Tip: To edit your drawing, select it. Once it is highlighted, a toolbar and a rotation tool will appear.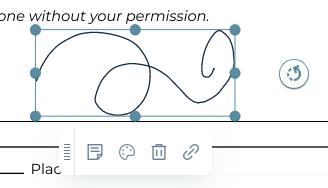 Drag the rotation tool to rotate your shape.
Select the toolbar option you require to comment on, style, delete, or hyperlink the shape.
Note: You can drag and drop the shape to other areas of the page you're working on.