If you've forgotten or misplaced your password, you can perform a password reset to reaccess your account.
If you have a Lumin login
1. Go to the Lumin Sign-In page
2. Click Forgot Password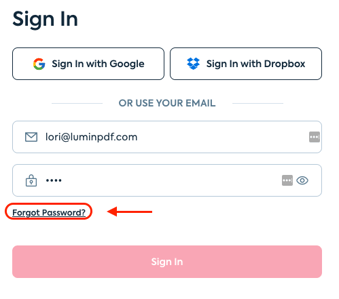 3. Enter your email & select 'Reset My Password'

4. Log in to your email and follow the re-set link


If you have a Google or Dropbox sign-in
You cannot reset your password via Lumin. You signed in via a third party (Google or Dropbox) which means your password is the same as your Gmail or Dropbox account.



Try signing in again via the third party login


Forcing a password reset for your entire Circle
If you're the Circle Admin, you can force a password reset for your whole Circle. This is something you might want to do once in a while to keep passwords fresh and secure.

Find out how to force a bulk password reset here