Rotating a page is quickly done in Page Tools. Find out how below.
Select Page Tools from the toolbar.




Select Rotate pages.


Enter the page numbers you want to rotate (separate them by comma). Alternatively, you can also enter the range of the page numbers.
Click the rotate button for the direction you want to rotate.


Note: Each click of a rotate button rotates a page 90 degrees - in other words, one quarter of a full turn.
Tip: Use the single view option to display one page at a time in a scrollable list, or use the grid view option to display all pages as thumbnails.
The grid view is selected in the example below.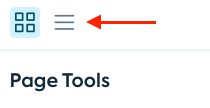 Tip: You can use all the page tools in both single view and grid view.
In grid view, you can also hover over page thumbnails for options to rotate or delete pages.
Tip: You can Rotate by using the keyboard shortcut.
Rotate

Mac: Command Shift -
Windows: Ctrl Shift -