Read on to find out how you can start taking advantage of what Lumin can offer.
Lumin is a digital toolkit designed to make editing PDFs easy. Read, share and edit PDFs - as lightly or as heavily as you like - from any device.
Lumin is purpose-built for collaboration in a shared digital workspace, and is therefore fully integrated with Dropbox and Google Workspace (including Gmail, Google Classroom and Google Drive).
Here's a step-by-step guide on how to get started quickly:
Head to the Lumin website.
Click the "Try for free" button.


Create an account.

You can use your Google or Dropbox logins to create an account, or enter your email address and create a password.

Once you're signed up and logged in, you will automatically be sent to your dashboard. It looks like this:

You can now upload, share and edit documents either on your own or in real-time with a team.
Your dashboard provides insights on the documents you and others have uploaded, annotations that have made, and more.
If you're collaborating with your team, adding comments will be an important part of Lumin. Here's how you do it:
Select the Comment option on the toolbar.
Click on the page where you want to add comments. A comment icon and a text entry box will appear.
Type your comment and click Comment

.
The notification section allows you to stay up-to-date with actions and messages from colleagues.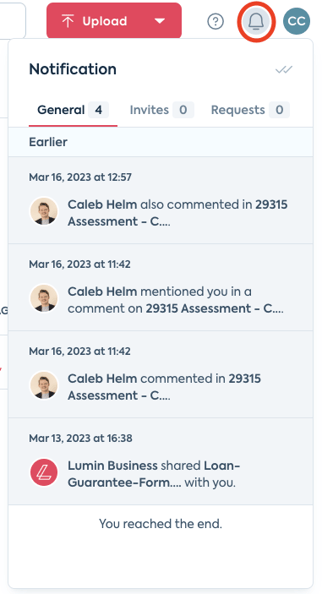 You can also add signatures in Lumin.
In the editor, click the Sign tool in the toolbar, or press 'S' on your keyboard.

If you find the eSign tool is a big part of your Lumin life, we suggest using our sister site Bananasign - it's a dedicated signature workflow tool.
Lumin also offers a number of other features, such as the ability to merge multiple PDF files into one, split a PDF file into multiple files, rotate pages, add watermarks, and more!
Choose your Lumin plan here.