Using Lumin PDF's Free Text tool, you can add and style inserted text anywhere within your documents.
Select the Free text option on the toolbar.



Tip: You can select the Free Text tool using the shortcut 'T'
2. Click on the document where you want to enter text.

An insert text box appears.



3. Click the text box.

The box becomes highlighted and a toolbar appears with it.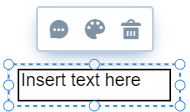 4. Add text as required.

Optional
Style and edit the text, using the toolbar to:
Tip: you can drag and drop the text to other areas of your document.
Note: The ability to edit the original text on your raw PDF document is currently not available, however, this is a feature Lumin will be releasing very soon!